Speed & reliability where you need it
We've helped hundreds of companies of all sizes supply their clinical studies. From small scale Phase I studies to complex, large global Phase III studies, we can help you overcome project challenges and ensure you get the highest quality, most cost-effective solution. Our investments in automated equipment and specialty handling suites provide industry-leading efficiency, accuracy, capacity and flexibility to help speed your product to clinic.
We perform GMP primary packaging at our North American, UK, European and Asia Pacific facilities to supply your studies virtually anywhere in the world. Working in close collaboration with you, we develop solutions that are not only material efficient, but also meet your critical trial timelines.
Primary packaging services include:
Automated, high-speed blistering & bottling lines
Automated plunger-rod insertion & labeling for pre-filled syringes
Semi-automated and hand-fill bottling lines for smaller batches
Temperature & humidity controlled packaging suites
Dedicated potent/cytotoxic packaging rooms/suites
Oxygen & light sensitive packaging options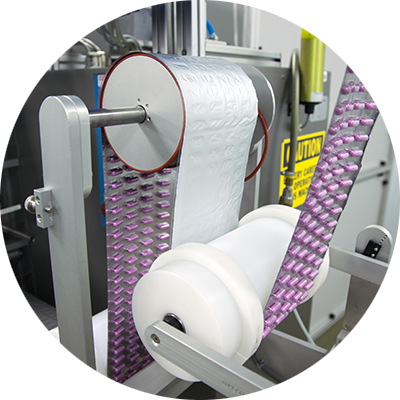 Low-volume Commercial Packaging
It can be challenging to obtain timely commercial packaging services for low-volume drugs such as niche and orphan products. We have the capacity, commercial serialization capabilities and extensive expertise managing complex supply chains to support your commercial packaging needs. Tell us about your project today.